When it comes to Indian households, rice is an essential part of their daily meals. It serves as a staple food and is prepared in a variety of ways to complement different dishes. With the vast diversity in India, the country offers a multitude of rice varieties that cater to every budget. Let's take a closer look at the quality common Indian rice available for every budget.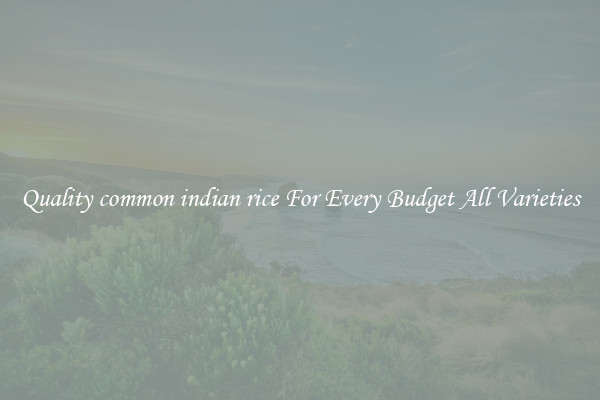 Starting with the budget-friendly options, there is an abundance of rice varieties that provide excellent quality without breaking the bank. One such variety is Sona Masoori, which is widely consumed across many households. Known for its lightweight and aromatic nature, Sona Masoori is perfect for everyday cooking. It is affordable and easily available, making it a popular choice among Indian families.
Moving on to the mid-range budget options, Basmati rice steals the spotlight. Basmati rice is renowned for its long grains, distinct aroma, and delicate flavor. It pairs well with both vegetarian and non-vegetarian dishes, making it versatile. While there are various brands available, it is essential to select a trusted one to ensure the rice's authenticity and quality. India Gate, Lal Qilla, and Daawat are some reliable brands that offer excellent Basmati rice for a reasonable price.
For those looking to indulge in premium quality rice, the options are aplenty. Extra-long grain Basmati rice, such as the 1121 Basmati variety, is considered the epitome of luxury when it comes to rice. Its grains are slender and elongated, and the aroma is unparalleled. This rice is often used for special occasions, weddings, and feasts. Although it may come at a higher price point, the experience it provides is worth every penny.
Another high-quality rice variety is the aromatic and flavorful Jeerakasala rice. It is primarily grown in the southern region of India and is popularly used for making biryanis. Jeerakasala rice has a natural fragrance of cumin seeds and imparts a rich taste to the dish. Its unique texture and taste make it a favorite among rice connoisseurs.
No matter the budget, Indian rice offers a fantastic range of options to suit individual preferences. From the budget-friendly Sona Masoori to the premium 1121 Basmati and Jeerakasala rice, everyone can find a variety that satisfies their palate.
In conclusion, Indian rice provides an array of choices for every budget. With a focus on quality, these rice varieties serve as the foundation for countless delicious dishes in Indian households. So, go ahead and explore the diverse world of Indian rice, ensuring a satisfying and flavorful meal every time.