Versatile goji juice powder extract for use in Various Products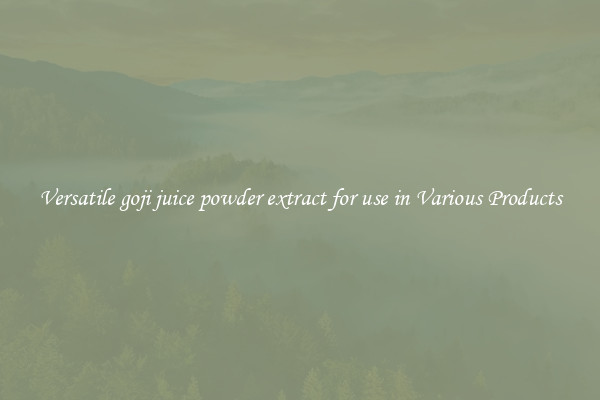 Goji berries have gained immense popularity in recent years due to their numerous health benefits and their use in various products. One of the most versatile forms of goji berries is the goji juice powder extract. This highly concentrated powder is a convenient and effective way to incorporate the nutritional benefits of goji berries into a wide array of products.
Goji juice powder extract is made by carefully dehydrating fresh goji berries, which helps preserve their nutritional content and extend their shelf life. The result is a fine powder that can be easily mixed into different types of products, including beverages, supplements, snacks, cosmetics, and even culinary dishes.
One of the main advantages of using goji juice powder extract is its convenience. The powder can be easily incorporated into liquid products, such as smoothies, juices, and energy drinks. Its concentrated form allows for a higher dosage of the beneficial nutrients found in goji berries, making it a potent addition to any beverage.
Moreover, goji juice powder extract can also be used in the production of supplements. Its high concentration of antioxidants, vitamins, and minerals makes it an ideal ingredient for dietary supplements aimed at boosting the immune system, improving eye health, and promoting overall well-being. It can be encapsulated or mixed into powders and tablets, providing a convenient way for people to reap the benefits of goji berries.
Aside from beverages and supplements, goji juice powder extract can also be incorporated into snacks and culinary dishes. The mildly sweet and slightly tangy flavor of goji berries adds a unique taste to a variety of products, such as energy bars, granolas, and cereals. It can also be used as a natural food coloring or flavoring agent in desserts, jams, and sauces. Its versatile nature provides endless opportunities for culinary innovation.
Additionally, goji juice powder extract has found its way into the beauty industry. Its high antioxidant content helps fight free radicals and protects the skin from environmental damage. It can be found in skincare products, such as creams, masks, and serums, aiming to promote youthful-looking skin and improve overall complexion.
In conclusion, goji juice powder extract is an incredibly versatile ingredient that can be incorporated into a wide range of products. Its convenience, potent nutritional content, and unique flavor make it an excellent addition to beverages, supplements, snacks, cosmetics, and culinary dishes. Whether you are looking for a way to boost your daily nutrient intake or add a twist to your culinary creations, goji juice powder extract is a versatile choice worth considering.